Wellness holidays at our resort with a charm all its own, in the heart of the Alps
So much room. Why accept less when you can have more.
As a Premium Spa Resort, we really do offer everything that a true wellness lover could wish for. Allow our expert treatment team to pamper you and discover your own favorite retreat: We offer so much space and such extensive wellness & SPA amenities for your wellness holiday that you will be quite astonished. Wellness becomes a memorable experience in its own right.
I
♥

doing nothing
SIMPLY UNWIND
And give sweet idleness a fair chance 😊. It couldn't be easier thanks to the wealth of opportunities in our 4000 m2 wellness & SPA area.
The Lürzerhof Water Worlds
5 Pools & NATURAL SWIMMING PONDS FOR BATHING ENJOYMENT par excellence
4-seasons outdoor pool: heated year-round to 31°C in summer and 34°C in winter, comfortable bubble beds
18m indoor infinity panorama pool (30°C )
New, spaciously designed natural swimming pond - the Mountain Lake

Nude natural swimming pond - the Sauna Nature Lake
Alpin Bubble - hot tub
Small wellness lovers will also have a marvelous time in our "Splish-Splash" kiddie pool and the snuggle lounge
Adults-Only in- and outdoor Sauna World
SPACIOUS WELLNESS AND SPA AREA JUST FOR ADULTS
Unique Lake Event Sauna with different daily theme infusions, show infusions
Alpin Bubble Hot Tub with bubble seats, new nude sauna nature lake right in front of the outside sauna, surrounded by lots of space to relax comfortably,
Outdoor Living Room
Indoor: Organic Herbal Hut Sauna, Finnish rock sauna, brine steam bath, mild aroma steam bath, Kneipp pool, ice grotto
Infrared Mountain SPA Cinema: rotating film highlights while you sweat comfortably on infrared beds
Variety of quiet areas, including a quiet room with natural sound and lighting elements, sun, moon & stars, Room of Silence – pine relaxation room, panorama quiet room, Alpin Harmony, Love Decks for 2
Vital Lounge with tea, juices, fruit,... & chat corner
Hand-Selected Wellness Treatments
360-degree feel-good guarantee at Lürzerhof Alpin Life Resort
Only the best is good enough for your wellness holiday: use of natural wellness products, natural cosmetics, essential oils,...
Classic massages, health massages, special massages
Baths, wraps & peels on a Softpack bed
Body treatments, manicures & pedicures, facial treatments
Wellness treatments for expectant mothers
and much more
Day-Spa Wellness
We are also happy to open our wellness doors to non-resident guests. For an entire day, enjoy the lightness of boundless relaxation, also dining on our lunchtime and afternoon buffets. Tip: Lürzerhof Girl-Friends Day!
Attractions for perfect wellness holidays
GLORIOUS RELAXATION ON 2 FLOORS AND A TOTAL OF 4000 Sqm
Lobby/Reception
Premium Spa reception
Organic Hut Sauna
Adults-only sauna area
Kneipp pool
Pine quiet-room – Alpin Silence
"Amore" private spa suite
Mountain SPA Cinema
Alpin Harmony – quiet-room, adults only
Beauty services
Softpack bed
Massage & Cosmetics
Panorama quiet-room
Swimsuit family steam bath
Terrace
Showers
Outdoor Living Room - enjoy & relax
Lake Event Sauna
Alpin Bubble – nude hot tub
Sauna Nature Lake
4-seasons outdoor pool
Mountain Lake
Panorama Indoor Infinity Pool
Late check-out changing rooms
for men & women
"Splish-Splash" kids pool
Sun, Moon & Stars quiet-room
Adults-only
Love Decks – adults-only terrace
Family Deck – terrace for families
Fit & Fun Terrace
Fit & Fun Club
Exercise Room
Play & Fun:
table tennis, table soccer,…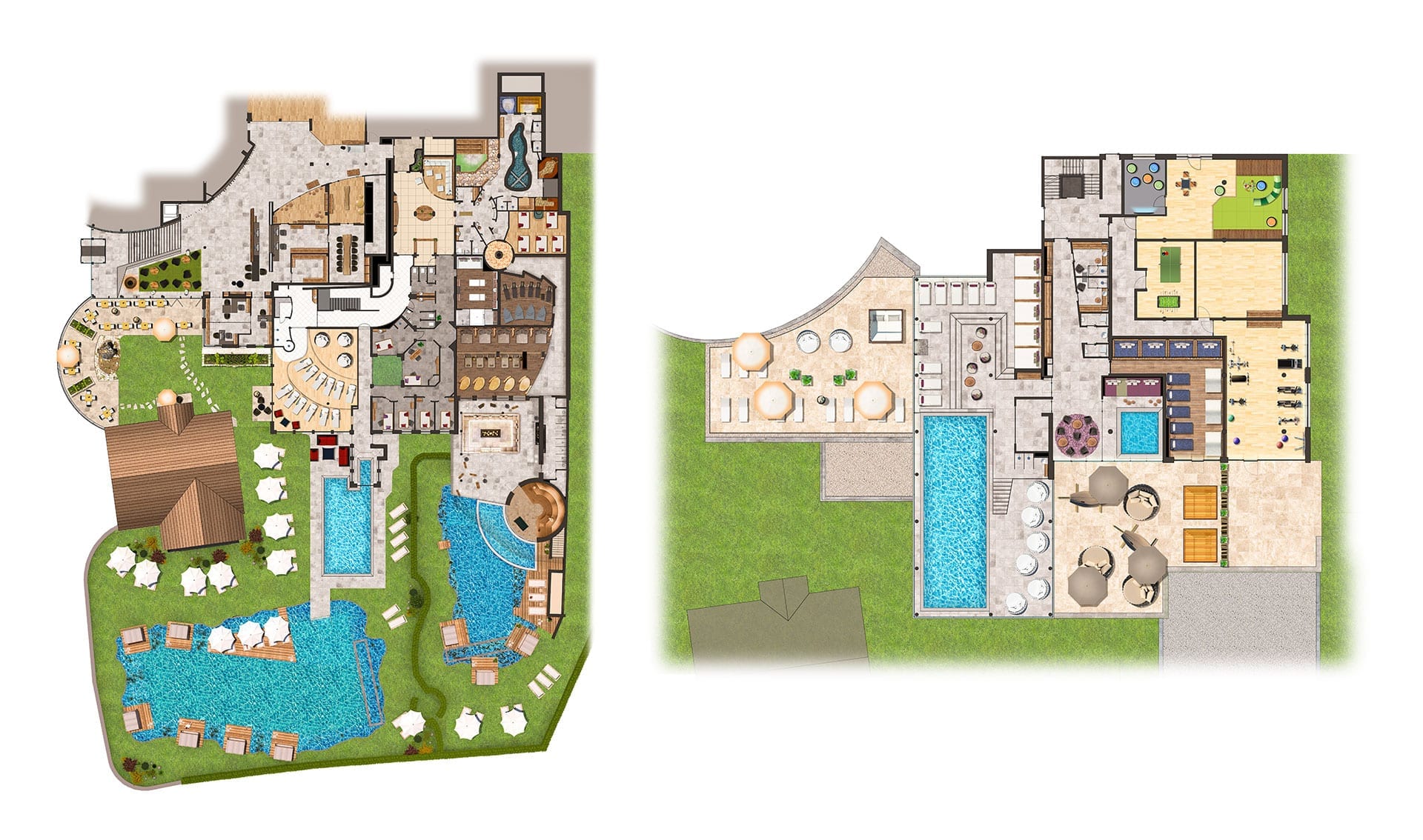 Wellness Packages
Top Packages fOr Wellness Fans
The wellness area is one-of-a-kind
Klaus · March 2020
A wellness area that leaves nothing to be desired
Christian · February 2020
A wonderful & romantic wellness weekend
Marion · December 2019
Bottom line - an utterly relaxation vacation
Christine · November 2019
Book your wellness holiday or wellness weekend now
Look forward to your rejuvenating wellness escape filled with an array of special highlights and all-inclusives.