Wellness Hotel Resort in Obertauern
Top Wellness Hotel in Salzburger Land
Alpin Life in Salzburger Land. We welcome you to our 4-star-superior Wellness Hotel in Obertauern - Untertauern. Modern and traditional, visionary and sustainable. With boundless love for detail, we have created a hotel resort with just one goal in mind: making your holiday time – be that active, relaxed or family-style – the most beautiful time of your entire year.
Our hotel resort in summary
Alpin Life Resort Lürzerhof: WHERE WELLNESS MAKES ITS HOME
COMFORTABLE
ROOMS & SuiteS
Tauernstube
New: Mountain Rooms & Suites
Restaurant Herzblut
Atrium:
Lobby with event shop,
Show distillery,
Alpin Lounge, open fireplace and more.
Basecamp:
functional year-round storage for sporting equipment
Entrance area for pleasant arrival
Family Deck – terrace for families
Unique:
High-tech bowling lanes with VIP Lounge
Underground garage
Terrace
Spirit of Tauern:
Luxury penthouse suite with private sauna on the terrace
Panorama quiet-room
Panorama indoor infinity pool
"Splish-Splash" kids' pool
Alpin-Life Suites
Alpine design and nature loggia
Fit & Fun Club
Love decks – adults-only terrace
4-seasons outdoor pool
Sauna area
with 7 different saunas
Lake Event Sauna
Alpin Bubble – nude hot tub
Sauna Nature Lake
Mountain Lake
Underground garage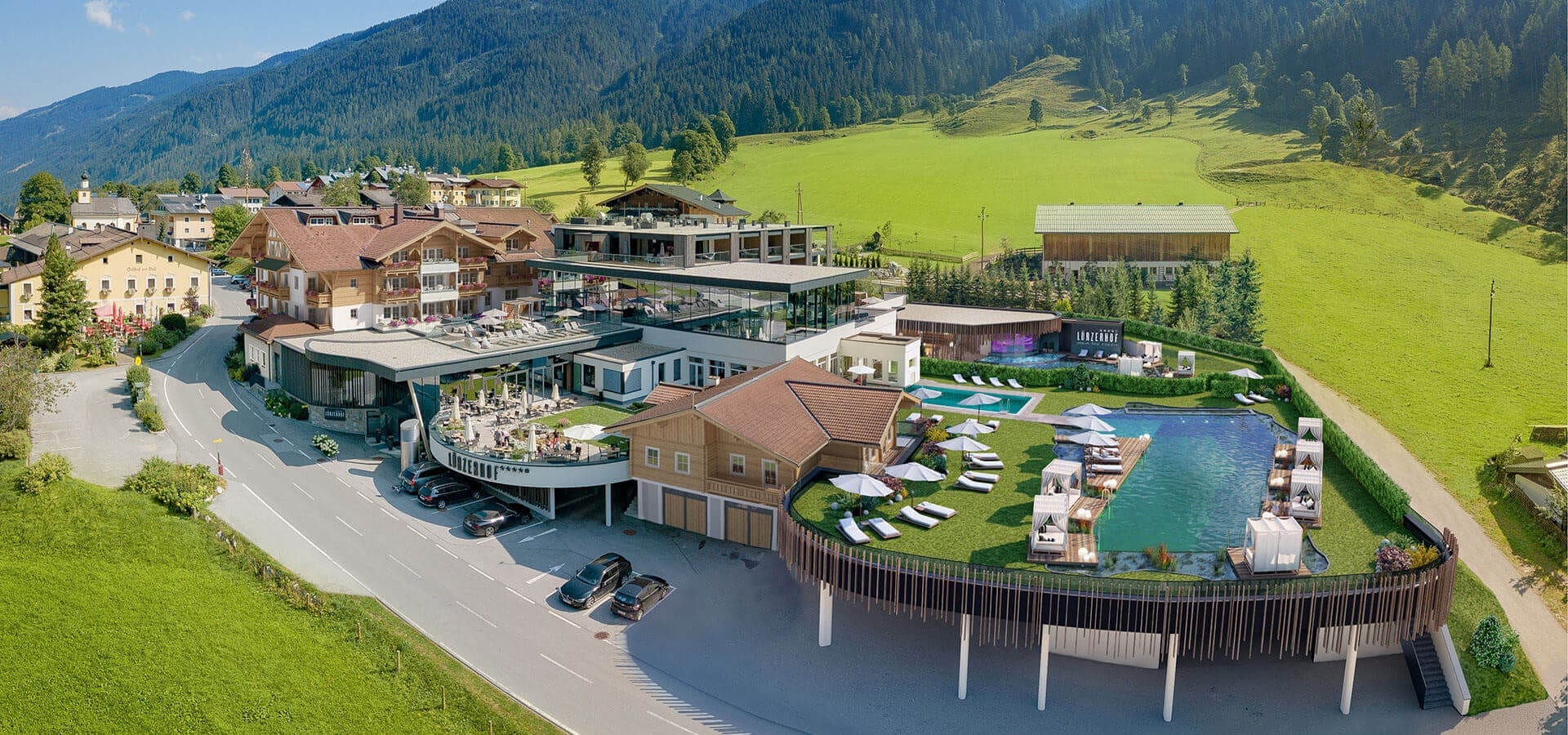 We have to admit, when we see what the former Gasthof Lürzerhof has become over the past decades, we do feel quite proud: A place that fulfills exceptional expectations and where you are greeted and accompanied by authentic hospitality.
Sustainability at our 4-star-superior hotel resort
HOLIDAYS WITH A CLEAR CONSCIENCE
Clean, "green" electricity from our own Taurach hydro-power plant (one of the most modern in Austria)
Drinking water of exceptional quality from our own spring in the "Christina-Stollen"
Biomass heating plant & woodchip heating – wood from our own forest
High-efficiency heat pump
Negative CO2 balance at the Hotel Resort
Regionality: food products, produce from our own family farm, cooperation with local businesses for remodeling projects and new construction, as well as in support of day-to-day hotel operations
Free E-recharging stations (powered by 100% eco-electricity)
Energy-efficient construction of our wellness hotel
Gourmet & Cuisine
at our Wellness Resort in Salzburger Land
PURE ENJOYMENT: Alpin Life Gourmet BOARD+
Our daily culinary highlights further refine each day of your holiday spent at our wellness hotel in Obertauern. Here, too, high quality is the top priority, with many ingredients sourced either from our own farm or the surrounding region. Our chefs have a personal preference for traditional Austrian dishes, creatively presented with extraordinary culinary craftsmanship. On occasion, they make excursions into international cuisine, bringing the best of this world to your plate. You are certain to be pleasantly surprised.
Alpine resort with a charm all its own

A HOTEL LIKE NO OTHER
Seminars & Events
CONFERENCING, RECREATION & Teambuilding PERFECTLY COMBINED
Complete seminar package: We will be happy to organize all aspects of your seminar including side events
Professional development and seminars for teams and businesses involving 2 to 80 people
Perfectly equipped, bright seminar rooms with state-of-the-art presentation technology, seminar terrace
Delicious gourmet cuisine and coffee-break packages between sessions
Broad side-program for all seasons: unique wellness & spa area, traditional evenings enjoyed at our own mountain hut, bowling lanes with VIP Lounge at the hotel, numerous sporting opportunities,... – ideal for group experiences and teambuilding