Holidays with children
Kids only: the Kids Club at Alpin Life Resort in Obertauern.
Sometimes, you should simply let kids be kids. After all, they are the discoverers of tomorrow. There is a natural yearning to play inside each of them and this valuable resource will ultimately shape all of our futures – responsible for the evolution of an open, free society. Spend your vacation with children here with us in Austria. And find the peace you personally crave while we look after your loved-ones in our Kids Club.
If your children are ages 0 to 14, they are just the right age for our Kids Club. In the indoor games room, they will find an exciting mixture of games that are both fun and educational. And when the weather, as is often the case, entices us outside with lots of sunshine, we don't hesitate for a moment to take advantage of the opportunity to show the youngsters the nature of Salzburger Land in all its beauty. Because we want your children to be taken care of in a well-structured, caring environment, our Kids Club is staffed with trained childcare providers and is included for free during peak holiday periods.
Our holidays with children
WE FEEL SO COMFORTABLE HERE.
Kids Club Highlights
Action FOR ALL AGES 0 – 14
Climbing wall with hanging bridge, climbing tree, swaying cylinder etc.
Slide tower with tube slide
Small play castle for the littlest kids
Crafts & play corner
Play kitchen
Kids cinema
Children's terrace for outdoor play
Childcare during peak holiday periods (Austrian school holidays)
To give the kids an opportunity to work off a little excess energy in the fresh air, we have a small outdoor playground.
In addition to that, right across from Hotel Lürzerhof is a beautiful wildlife park where you can take a walk and discover all kinds of animals including deer.
Sauna & Wellness for Families
NATURAL SWIMMING POND, HEATED OUTDOOR Pool, FamilY STEAM BATH,..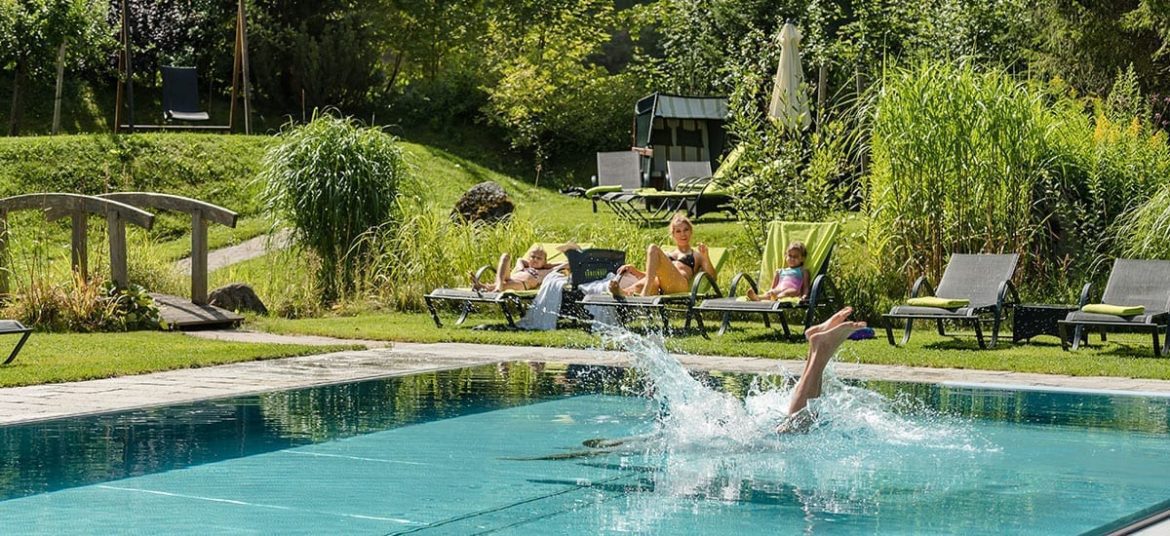 The kids love to do the same things that mom and dad do: that includes kicking back, stretching out and relaxing completely. Though a little differently. At our wellness hotel, big and small can look forward to a diverse family wellness program, both indoors and out. A pool to splash about in, cozy corners to snuggle, a steam bath for the whole family to work up a healthy sweat, and lots more.
Newly built natural swimming pond and cozy day-beds
Family outdoor lounge
Heated outdoor pool accessible directly from inside
Panorama indoor infinity pool
"Splish-Splash" kiddy pool with snuggle lounge
Swimsuit family steam bath, 45°C and 100% humidity
Bowling Alley
Our bowling alley is unique and enormous fun for families. And so the youngsters stand a fair chance as well, our lanes are equipped with bumpers which automatically come up whenever it's the kids' turn to bowl. In our bowling alley, you will also find a pool table and darts board.