Your Wellness Hotel in Salzburg
The new Premium Spa on 4000 sqm
Wellness holidays of the finest in Austria
Our new Premium SPA offers the ultimate in wellness enjoyment – inclusive for our guests, naturally! Awaiting you on an area of 4000m2 is a world of rest and rejuvenation. Numerous relaxation and wellness attractions invite you to escape the daily routine completely. The Lürzerhof Spa, with its many highlights, is probably the most exclusive wellness oasis in the region.
Here at our wellness hotel in Salzburg, everything revolves around Alpine lifestyle. All of the same things that inspire outdoor activities find their rightful place in the design of our saunas, steam baths and water attractions as well. Also experience the mountain world of Salzburg while you relax, taking your happiness to a whole new level thanks to one of the most beautiful wellness facilities in Salzburg.
Lürzerhof Spa in Numbers
LET THE FACTS SPEAK FOR THEMSELVES
Wellness & Spa Attractions
Wellness HOLIDAYS in Salzburg: ON 4000 Sqm
Lobby/Reception
Premium Spa reception
Organic Hut Sauna
Adults-only sauna area
Kneipp pool
Pine quiet-room – Alpin Silence
"Amore" private spa suite
Mountain SPA Cinema
Alpin Harmony – quiet-room, adults only
Beauty services
Softpack bed
Massage & Cosmetics
Panorama quiet-room
Swimsuit family steam bath
Terrace
Showers
Outdoor Living Room - enjoy & relax
Lake Event Sauna
Alpin Bubble – nude hot tub
Sauna Nature Lake
4-seasons outdoor pool
Mountain Lake
Panorama Indoor Infinity Pool
Late check-out changing rooms
for men & women
"Splish-Splash" kids pool
Sun, Moon & Stars quiet-room
Adults-only
Love Decks – adults-only terrace
Family Deck – terrace for families
Fit & Fun Terrace
Fit & Fun Club
Exercise Room
Play & Fun:
table tennis, table soccer,…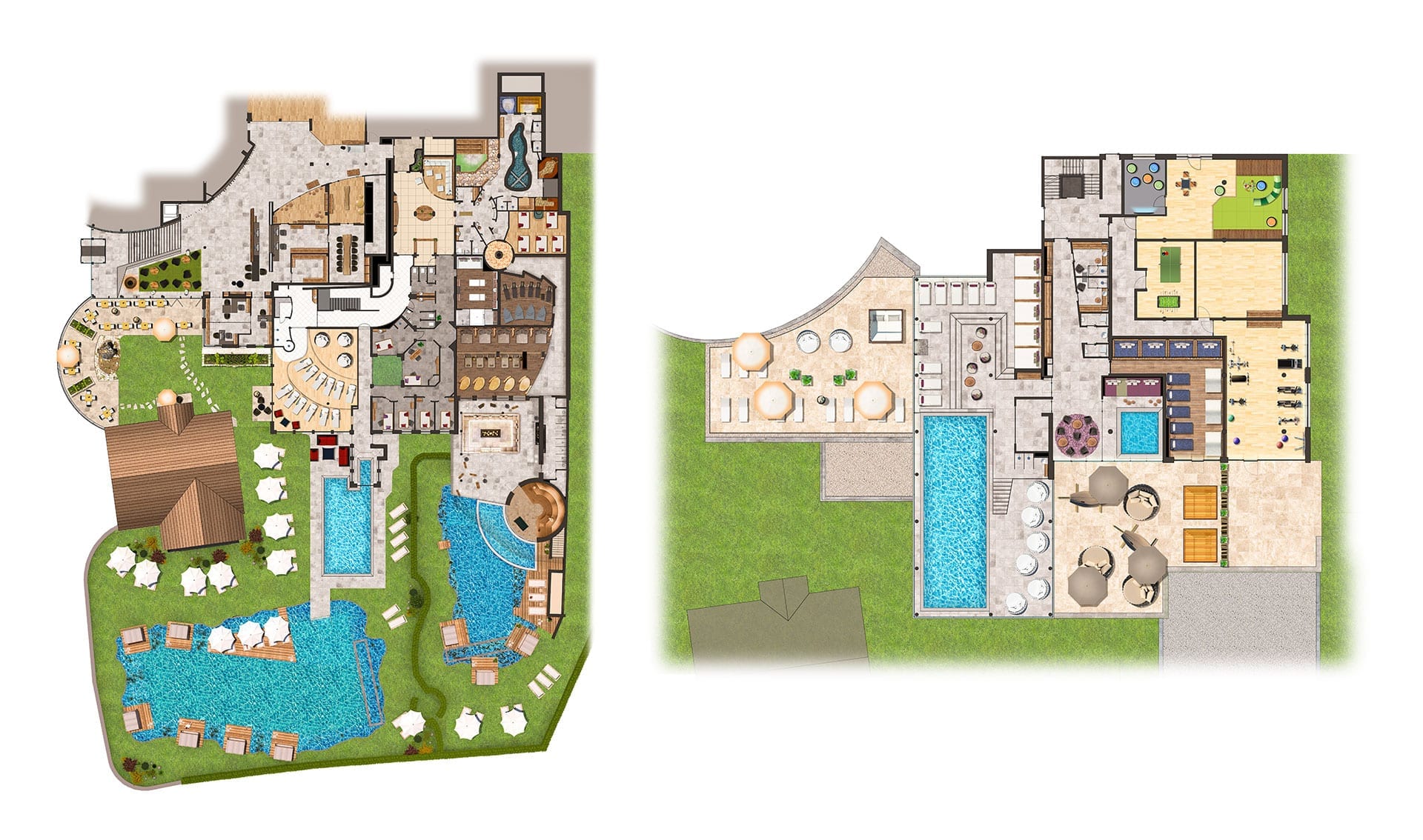 4-seasons outdoor pool at our wellness hotel: heated year-round to 31°C in summer and 34°C in winter, comfortable bubble loungers
18m indoor infinity panorama pool (30°C )
New, spaciously designed natural swimming pond - the Mountain Lake

Nude-bathing pond - the Sauna Natural Lake
Alpine Bubble hot tub
Our smallest wellness fans will also find what they are looking for thanks to our "Splish-Splash" kids' pool and our Snuggle Lounge
Adults-Only Sauna World
LEAN BACK AND RELAX IN A WELLNESS WORLD JUST FOR ADULTS
Close your eyes and immerse yourself completely in gentle waves of relaxation. We understand that it's not always easy to let go, even during a wellness vacation. It takes a little time to distance yourself from the daily grind. Our role is to shorten that time for you, so that you return as quickly as possible to who you truly are and get the most out of your wellness escape. In our spacious wellness and spa area just for adults, you will be able to savor the luxuriant peace & quiet. We have come up with countless special features guaranteed to restore harmony to your soul. These include our new Lake Event Sauna with show infusions, the Infrared Mountain Cinema and our Nude Natural Swimming Pond.
Regenerating, invigorating or relaxing – select your personal favorite from our diverse treatment packages. Here, too, you can count on our proven high quality: Our experts work with natural wellness products and certified natural cosmetics from VITALIS Dr. Joseph.
Lürzerhof Day Spa
We are also happy to open our wellness doors to non-resident guests. For an entire day, enjoy the lightness of boundless relaxation, also dining on our lunchtime and afternoon buffets. Tip: Lürzerhof Girl-Friends Day!